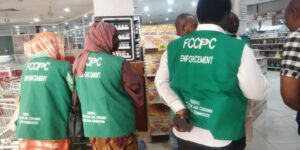 Digital Money Lenders (DML), infamous for their exorbitant interest rates and aggressive debt recovery tactics, have acquired the reputation of loan sharks in Nigeria.
An undercover investigation reveals the alarming extent to which these lenders resort to forgery, impersonations, and invasive breaches of privacy to recover their funds.
The largely unregulated activities of these lenders are pushing vulnerable members of society to the brink, resulting in dire consequences for the nation's lower class.
Government Response and Ongoing Challenges
Sarah Thomas, a pseudonym for an individual who endured months of mental and emotional torment, exemplifies the distress faced by borrowers.
In response to mounting complaints about their ruthless tactics, the federal government commissioned the Joint Regulatory and Enforcement Task Force (JRETF) in March 2022.
This inter-agency task force, comprising the Federal Competition and Consumer Protection Commission (FCCPC), the National Information Technology Development Agency (NITDA), the Independent Corrupt Practices and Other Related Offenses Commission (ICPC), the Nigeria Police Force, and the Economic and Financial Crimes Commission (EFCC), aimed to probe and clamp down on DML operators violating ethical lending practices and individual data privacy.
Despite government measures, the investigation reveals that these lenders continue to operate openly, causing havoc to the mental and emotional well-being of borrowers.
The absence of publicly available statistics on digital borrowers in Nigeria underscores the ease of accessibility and the lack of collateral demands that attract thousands of low-income Nigerians to DMLs without a full understanding of their operations.
While blame often falls on the lenders in conversations, some observers question the rationale behind borrowing, suggesting that some Nigerians engage in questionable loan practices, believing they can escape the consequences.
Personal Stories: Silent Suffering
One poignant story is that of Rachel Johnson, a widow and mother of two. Attracted by the promises of 'quick, easy, and collateral-free' offers from digital money lenders, Rachel narrates her descent into chronic depression due to relentless harassment by agents of multiple DML operators.
Rachel's nightmare began when she sought financial assistance for her children's upkeep and downloaded one of these loan apps advertised on social media.
The app promised a loan of up to a certain amount to be repaid within a specified period, but the reality was vastly different. The loan, much smaller than promised with additional service charges, set off a chain of borrowing from one app to pay off another, leading her into a crippling debt.
Similarly, Deborah Adekunle, a civil servant, faced humiliation and contemplated drastic measures due to relentless harassment by loan sharks. Her debt reached a significant amount, and despite substantial repayments, she found herself still owing a substantial sum.
Mark, a student in Bauchi, expressed his struggle with depression and the imminent risk of dropping out of school due to aggressive lenders who tracked and withdrew funds from his account. He emphasized the need for government intervention to curb the silent destruction of many lives.
DMLs' Assault on Privacy
The investigation highlights the widespread harassment, bullying, and breach of privacy by many loan apps. In 2021, the National Information Technology Development Agency (NITDA) fined a notorious loan shark for invading customers' data privacy.
Despite efforts by regulatory bodies, some loan apps continue to breach user privacy by using customer contact lists and images to threaten them.
Efforts to obtain comments from regulatory bodies regarding the resurgence of certain practices were met with silence. Victims report that some lenders are notorious for breaching privacy and harassing borrowers.
Exorbitant Rates and Unethical Practices
The investigation reveals that many of these apps charge exorbitant daily interest rates.
The Moneylenders' Law of Lagos State, which governs DMLs headquartered there, prohibits interest rates exceeding a certain percentage per annum for unsecured loans.
However, numerous apps violate this law, capitalizing on users' desperation by offering loans at high rates.
Despite meeting certain requirements and complying with guidelines, many of these apps have negative reviews, with users describing them as scams.
Forgery and Impersonation: A Disturbing Trend
One of the delisted loan sharks went beyond harassment by consistently impersonating government agencies. The investigation uncovered fraudulent letters of loan escalation, travel bans, and arrest warrants sent to loan defaulters.
Government agencies refuted these letters, emphasizing their commitment to prosecuting those using their name fraudulently.
Final Thoughts…
In conclusion, this undercover expose reveals the distressing reality faced by Nigerians trapped in the clutches of unscrupulous digital money lenders. The government's intervention is crucial to protect vulnerable citizens from these predatory practices and ensure the enforcement of regulations to safeguard borrowers' rights and privacy.
Credits & Privacy
In conducting this in-depth expose, we acknowledge the groundwork laid by prior investigations into the predatory practices of Digital Money Lenders (DML). We build upon the insights revealed by various sources that initially shed light on the largely unchecked and unregulated activities of loan sharks preying on Nigerian loan defaulters.
Our commitment to uncovering the truth behind these practices is rooted in the diligence and dedication demonstrated by journalists who paved the way for this ongoing investigation.
To ensure the safety and privacy of the individuals involved, the names used in this exposé have been changed. The decision to employ pseudonyms aims to shield the affected parties from potential repercussions and further harm.